Keypad Locks & Digital Door Locks
Electronic Door Locks and Keypads in Melbourne
Precision Locksmiths are your trusted locksmith service provider specializing in cutting-edge security solutions. If you're seeking a modern and convenient way to secure your commercial or residential property, our range of Digital Door Locks and Keypad Locks offer unmatched security and convenience, making them the preferred choice for many of our clients.
That's why we offer a carefully curated selection of Digital Door Locks and Keypad Locks to meet your requirements. Our team of highly skilled locksmiths are ready to assist you with expert installation, maintenance, and support, ensuring optimal performance of your locks. Contact us today to discuss your needs.
Upgrade to the latest in lock technology and experience the convenience, peace of mind, and superior protection offered by electronic door locks.
Enhanced Security
Convenient access control
Audit trail capabilities on some products
Durability and reliability
Seamless integration
Lockwood 530 Digital DX Entrance Set
The Lockwood Digital Dx Locksets Provide a mechanical method of keyless entry.
For extra security when under forced attack, the inbuilt clutching mechanism allows the outside knob to rotate without operating or damaging the lock.
This digital lock is designed to control access into commercial areas, especially when frequent combination changes are needed to maintain security.
As the digital lockset utilizes mechanical operation, electrical wiring is not required . Selected locksets combined with digital access pads provide keyless entry
E-Plex 2000
Electronic Pushbutton Lock
The economical E-Plex 2000 is the perfect entry-level commercial push button lock. The efficient solution for electronic access control features innovative design, combining the strength, simplicity and reliability of the E-Plex range in a stylish, intuitive pushbutton lock. The stand- alone unit is easily managed with simple keypad programming without using any software or computers.
100 Code PIN Access ControlFeatures and benefits
Keypad Lock Management
4 Authority Access Levels
Cylindrical Locking Device
2 Hour Fire Door Rating
No wiring to or through the door
Locks easily programmed via keypad
2 Year Built-In Warranty
Borg 2000 Series Digital Lock
Features:
Fully Mechanical Digital Lock
Inside handle free at all times
fully reversible
easy code change procedure
tested to more then 50000 cycles
more the 8ooo codes to choose fromm
suitable for internal use
finished in Satin chrome
E-Flash 680
Our E-Flash 680 considers every member of the family, allowing up to 100 individual proximity card registrations. It also allows the entry of a password (pin code), which is ideal for use by visitors or as a backup if a proximity card has been misplaced.
The EF 680 comes standard with 4 proximity cards but additional cards are available and affordable. You can also choose a fob accessory, which can be attached to everyday items, such as a school bag or a mobile phone case, making them convenient to carry and hard to lose.
Up to 100 users
Proximity card or password identification
Digital touchpad design
Standard or double security access modes
Easy to operate and programming
Break-in and damage alarm
Enhanced security with Scramble code features
Secure & durable European type lockcase with automatic locking function
Low battery power and malfunction alert
External power supply terminal and mechanical key override for emergency
Voice guide with volume control
Remote control (optional)
Borg Digital 7000 Heavy Duty
Code is changeable without taking apart the lock
Over 2000 code combinations
Lockwood 001 Touch
The 001 Touch uses the 001 Deadlatch  to secure the door internally however, the external cylinder has been replaced with a stylish digital touch screen keypad. The ability to use a pincode or keycard offers a convenient keyless solution.
Key features:
Touch screen keypad, 4-12 digit pin code
Programme up to 20 key cards
Outdoor weather resistant keypad
Has user code that expires and automatic locking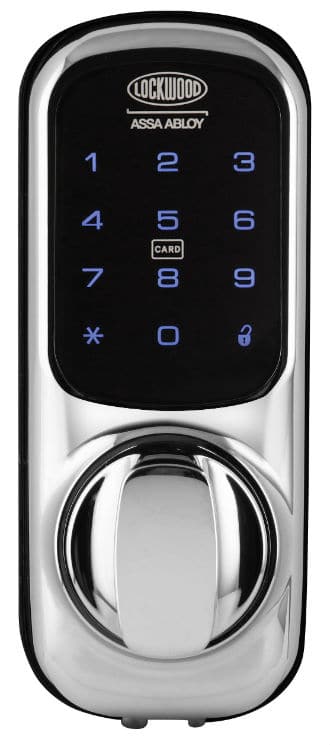 Nexion Keyless Entry Lockset
The Nexion electronic keyless lockset represents the next generation of home security. This stylish lockset combines the security of an automatic deadlatch with added safety features, plus the convenience of keyless operation using the Q-key remote control.
The Nexion Keyless Entry Lockset is battery operated, and emits an audible and visual confirmation of activation by the Q-key remote control. The Q-key has a range of up to three metres and uses the latest in encrypted rolling code technology for the highest security possible. Additional Q-Key remotes can easily be programmed by following the simple sequencing procedure.  Should the Q-key remote ever be misplaced, the lockset can be manually operated with a key.
Features of the Nexion
keyless entry using Q-key
Fully encrypted rolling codes
Safety features including safety release to minimise the risk of being locked in and lockout release
Simple programming sequence to add or disable Q-keys and has a range of up to 3 metres
The lockset provides both audible and visual confirmation of electronic activiation. The locksets mode is shown by lockalert
Carbine CEL 3in1 Electronic Leverset
3 in 1: 
Touch keypad

Key override

RFID card entry
Features include:

Fits in standard 54 mm entrance set hole, no additional drilling required

Access codes and RFID cards can be programmed through the lock

1 programing code, 25 user codes and 25 RFID cards

Codes from 4 – 8 digits

Guiding code, ability to enter program false numbers before true code

Vacation mode, lock out all users

Auto lock delay timer, 5 -99 seconds. Pre set at 5 seconds

Double authorization mode possible, card and code

ANSI G2

C4 keyway 6 pin cylinder , keyed to 5 pin key (same as CDL cylinder)

60-70mm adjustable latch

SL8 style lever (same as CDL-SL8SS)

Box Packed

RFID Cards sold separately, comes with 2 cards in box
Lockwood Code Handle Keyless Lockset 8816 RHSSS
Lockwood's innovative door handle with integrated electronic security, offers simple and effective key-less locking, without compromising aesthetics. Designed to enable conveniently controlled access to a door with easy installation. The Code Handle provides flexible locking options for doors that need to be always locked or alternatively can be left open to provide free access during the day and locked at night.
The Code Handle is ideal for offices, store rooms or a study at home.
The Code Handle is recommended for indoor use only.
Features
Lever handle with integrated code lock.
Program up to 9 User codes, 4-6 digits in length.
Keypad access control lever.
Supplied with Lockwood 530 60 mm latch.
Easy to install.
Ideal for retrofit installations.
Programmable administration code for setting lock operation and user programming.
Manual or automatic locking.
Passage mode.
Code lockout after 5 incorrect attempts.
Durable stainless steel handles.
Left and right handed versions.
Approximately 30,000 operations before batteries replacement.
Batteries included (two CR2 batteries).
Alarm Lock Trilogy T2 Digital Lockset
A high quality standalone digital lock that has a key override function.
Features:
Will replace standard entrance set with slight modification
Recommended for timber doors with a thickness between 40mm – 47mm
Supplied with a 70mm backset as standard with the options of a 60mm or 127mm tube latch
10 digit vandal resistant metal code-pad with LED access indicators
Fully reversible with built-in clutching mechanism to protect against forced attack
Key override cylinder is compatible with most domestic and restricted key systems
Audible and visual low battery alert
3 programming levels, 104 user Codes (1 Master, 10 Sub-master, 90 basic user and 3 re-settable one-time only service codes)
Passage function – enable/disable by entering a code
Lock out function – ability to lock out individuals, groups or all users
Changeable door opening period from 5-20 seconds
Shutdown feature after four incorrect codes have been entered
3, 4 or 5 digit user codes with up to 29 million code combinations
Fire rated – 90mins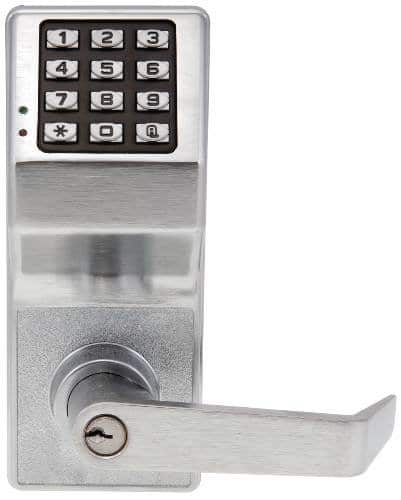 Suprema Bio Entry Plus
Features:
CPU: 400MHz DSP.
Memory: 4MB flash + 8MB RAM
Fingerprint sensor: 500 dpi optical sensor
Identification speed: 2,000 match in 1 second
Fingerprint capacity: 10,000 templates (5,000 users)
Log capacity: 50,000 events
RF card: Proximity (EM), HID® Prox, Mifare®, iClass®, FeliCa® iDM, CEPAS
Operation modes: Fingerprint, RF card, RF card + fingerprint
Network interface: TCP/IP, RS485
Wiegand output: Configurable up to 64 bits
TTL I/O: 2 inputs for exit switch and door sensor
Internal relay: Deadbolt, EM lock, door strike, automatic door
Sound and interface: Multicolour LED and multi-tone buzzer
Operating voltage: 12VDC
Size: 50 x 160 x 37 mm (W x H x D)
Lockwood 002DX mechanical digital deadlatch.
Digital deadlatch for open-in timber frame.
4 to 6 digit code.
Inside knob free at all times.
Bolt hold back function activated by rotating knob past 90 degrees.
60 mm backset.
Cut resistant 18 mm projection stainless steel bolt.
11 concealed anchorage points.
Door frame strengthener.
Suits door thickness 32-45 mm.
Key pad finished satin chrome.
002 body finished in satin chrome pearl.
Cortex CTX530
Easy Mode or Advance Mode function.
Up to 40,000 operations battery life (Card).
Add/delete individual users with Master Code.
40 Card users and 20 PIN Code users.
Cryptic Code function.
Lockset includes 2 Access Cards (can add up to 40).
Dual Security Credential requires that two users are present to unlock the door. One user will have PIN Code and the other user will have the Card.
Delayed Unlocked State allows the user extra time to open the door – ideal for elderly or disabled.
Time & Date function allows preference for various Time & Date based features. This has full calendar support including leap year etc.
Visitor Code allows a PIN Code to be programmed for a certain date period.
One Time PIN is designed to be used once and then automatically expires.
Smart Battery Check function; allows users to check the battery level and ignores the false recovery condition of the batteries.
This allows the user to accurately determine when a battery replacement is needed.
Dual Card format allows compatibility of 90% of the world's access control systems. If your existing access control uses Mifare or iClass it can be programmed into CORTEX® with no effect to your existing system.
Passage Mode allows the users to toggle between standard and passage mode as required.
Timed Passage Mode allows users to keep door unlocked or locked for certain parts of the day.
Includes 60 mm latch.
Suits door thickness from 35-48 mm.
Dimensions 215 (H) x 49 (W) x 32 mm (D).
CTX530 can be installed over standard plate furniture and will operate with 3772, 3572 mortice locks. (No Key override).
Kaba EPLEX 1500 Deadbolt
The E-Plex® 1500 provides exterior access by PIN code with the deadbolt being projected and retracted by thumb turn. This small, sleek electronic pushbutton lock easily installs or retrofits existing deadbolts. Locks are powered by three AA batteries that allow for continuous operation of up to 100,000 cycles.
100 users
1000 event audit trail
Simple keypad programming & optional Microsoft Excel-based software
Multiple operating modes; PIN, Passage and Lockout
Battery powered with up to 100,000 cycles from 3 AA's
Easy installation and retrofit of existing deadbolts
Code length adjustable from 4 – 8 digits
Re-lock time adjustable from 2 to 20 secs
Wrong pin attempt lockout
Suitable door width 35 – 50 mm
2 year warranty